Culture shock is a common phenomenon among expats. It's difficult to define a precise meaning, but here are some ways to recognise it and deal with it so that it impacts as little as possible on your transition to a new culture: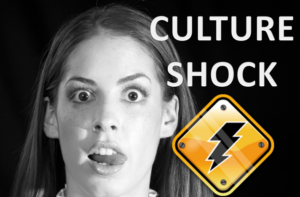 Recognising culture shock
Usually within the first few months of living in a new place – once the novelty has worn off and you've come to grips with the idea of living abroad, anxiety, nerves or feelings of alienation can set in.
What causes culture shock?
As an expat living in a foreign land, it's very normal for cultural differences such as customs, conversational etiquette, mindset and language all form barriers to feeling comfortable and at home.
Working through it
Many experience culture shock as an emotional roller coaster, but being aware of the possibility that you might have negative responses to your new life, such as a feeling of isolation or resentment, and being willing to deal with the issues are key to overcoming them.
Minimising the effects
Before leaving, make a concerted effort to learn about the customs and culture of your destination. This will mean fewer surprises in the transition.
Once at your location, you need to seek support – both personally and professionally – to minimise the effects of culture shock. Seek the advice of other expats you know, and make an extra effort to make friends locally. Being a recluse or communicating solely with people back home or within your family will only increase your feelings of isolation
Small efforts on your part – such as getting to know local news, asking questions, even watching local TV programs will mean that you have a good starting point for conversations with new people, along with a growing understanding of the culture and habits of your new home.
Though it can be stressful and unpleasant, culture shock is an important step along the route to settling down in a new place. If you are prepared and take positive steps to combat culture shock, you will find your expat experience greatly enriched.
Vivienne Egan writes for Now Health, who provide international health insurance for expats.